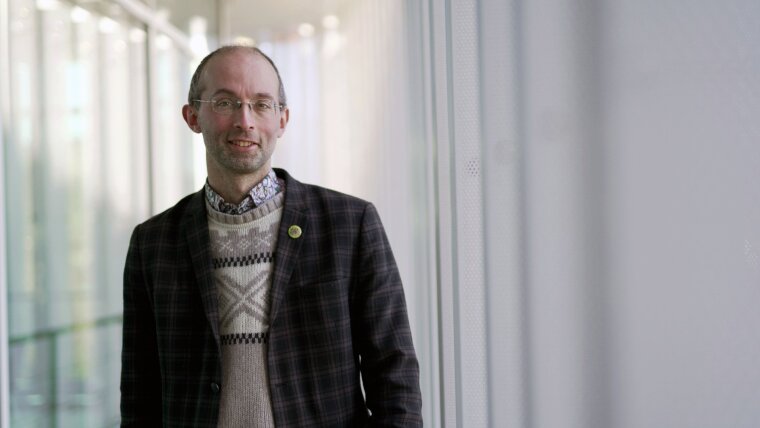 Jena's influential researchers
Two scientists from the University of Jena among the world's most cited researchers
Bioinformatician Prof. Dr Bas E. Dutilh.
Two researchers from the Friedrich Schiller University Jena are among the world's most cited scientists in their field: bioinformatician Prof. Dr Bas E. Dutilh and medical scientist Prof. Dr Andreas Hochhaus. This is confirmed by the "Highly Cited Researchers 2022" ranking published on 15. November 2022 by Clarivate Analytics. The citation frequency is considered a quality indicator and an important indication of the scientific influence of publications. Since the two scientists from Jena belong to the one percent of the most frequently cited researchers and their results are of high quality, they are among the most influential researchers – and not just since this year. 
The fascination of the Microverse
Bas E. Dutilh is Professor of Viral Ecology at the University of Jena and a member of the Cluster of Excellence "Balance of the Microverse"External link, where he combines his work on virus discovery with his line of research on modelling the microbiome. Prof. Dutilh is fascinated by the ecological and evolutionary dynamics in the microbial world and works to understand the interactions of microbes with each other and their environment. The bioinformatician is known for using Big Data in his research and works on systems where abundant data is available, like the microbiomes of oceans and humans. Dutilh's discoveries include a bacteriophage virus found in the intestines of the majority of the world's population. His modelling contributes to a detailed understanding of the microbiome. "I am very happy to continue my work here at Friedrich Schiller University. I am surrounded by an amazing group of scientists and look forward to seeing their work become highly cited as well," says Prof. Dutilh.
Treating better leukaemias 
Andreas Hochhaus is Professor of General Internal Medicine, specialising in haematology and oncology. At the University Hospital Jena, he researches molecular mechanisms of haematological diseases as well as principles of action of new substance classes for the treatment of leukaemias. In recent years, research results on the use of innovative drugs for the treatment of chronic myeloid leukaemia have attracted particular interest.
"I am very pleased to be named again in the list," says Prof. Hochhaus. "It bears witness to the international visibility of the research results of my team at the University Hospital Jena and our successful international cooperation. The publication of the results of innovative studies supports the rapid availability of new and improved therapy concepts for leukaemia and related diseases for the immediate benefit of our patients."  
369 most cited researchers from Germany
The citation frequency represents how often a publication is cited by other researchers in their publications. This ranking does not simply add up the number of citations of all publications but is based on the 1% of publications most cited in the respective publication year. The current ranking of "Highly Cited ResearchersExternal link" includes 6,938 researchers from 69 countries, including 369 from Germany. 
Bas Dutilh, Prof. Dr
Head of the Research Group Viral Ecology and Omics
Professur Virale Ökologie und Omics
Room 103
Rosalind-Franklin-Straße 1
07745 Jena
Andreas Hochhaus, Prof. Dr
Klinik für Innere Medizin II, Universitätsklinikum Jena
Am Klinikum 1
07747 Jena